Andre Agassi Biography
Andre Agassi was born in Las Vegas to a sporting family. His Iranian father was an Olympic boxer and, by the time he was three-years-old, Andre was considered a tennis prodigy.
Having enrolled in the Nick Bollettieri Tennis Academy in Florida at the age of 13, Andre excelled and turned pro when he was only 16. Six championship wins in 1988 saw him quickly rise to number 4 in the rankings. However, despite attracting a fair amount of press attention for his fashion sense and bad boy image, Andre had to wait until 1992 for his first big win.
Due to his dislike of the grass surface and the all-white dress code, Andre avoided competing at Wimbledon from 1988-1990. However, thanks to a last minute decision to take part in 1992, he raced through the tournament and saw off the might of Goran Ivanisevic at the grand final to claim victory.
After a bad year in 1993, Andre hired Brad Gilbert as his coach and soon after he became the first un-seeded player since 1930 to win the US Open. The winning streak continued and he achieved a 73-9 record in 1995, winning the Australian Open and reaching the top ranked position in the world. Despite not winning a Grand Slam event in 1996, he did pick up the gold medal at the Olympics.
Andre met Brooke Shields in 1993 and, after a four-year courtship, the two married in Carmel, California in 1997. However, while the couple became media darlings, Andre's career took a turn for the worse. By November 1997, thanks to a bad run and a number of injuries, he sank to a 141 world ranking.
This career low put a strain on his marriage and after filing for divorce from Shields in April 1999, Andre threw himself into a strict exercise regime. In June of that year, he became only the 5th player in history to win all four Grand Slams and by the end of 1999, he was ranked number one in the world.
A return to form saw Andre win two straight Australian Open championships in 2000 and 2001. During 2001, he won 49 career singles championships and $23,502,790 in prize money. He had a record of 689 wins and 220 losses in singles matches.
Agassi married fellow tennis player Steffi Graf in 2001 and the couple have two children. While continuing to play, off the court he devotes much time to the Andre Agassi Charitable Foundation.
The last match between Agassi and Pete Sampras was in the final at the 2002 US Open. Being the last match of Sampras' career, it was fortuitous for him that he beat Agassi. By the end of 2002, Agassi finished at number two overall, becoming the oldest tennis player to do so, at 32 years and 8 months.
Winning his eighth Grand Slam title at the Australian Open and his sixth Miami Masters in 2003, he surpassed his wife Steffi Graf who is five-time winner of the event. In 2004, Agassi won the Cincinnati Masters and in 2005, he left Nike after a 17-year alliance, and signed an endorsement deal with Adidas.
Having qualified for the 2005 Masters Cup in Shanghai, Agassi was forced to withdraw due to an injury. He had torn ligaments in his ankle playing racquetball three weeks before and had been advised to keep off his feet. This injury also forced him to withdraw from the 2006 Australian Open and, coupled with back and leg pain, seemed to plague him in the other tournaments he was playing. It was obvious to those watching, that Agassi was not quite on his usual form and he seemed extremely disappointed that his injuries were preventing him form achieving the wins he desired. Agassi opted out of the entire clay season and as a result, his ranking fell into the 20s
After twenty years in professional tennis, on 24 June 2004 Agassi announced he would be retiring from tennis following the 2006 US Open. His final match was against Benjamin Becker on 3 September 2006 and Agassi lost in four sets, in the third round. He bade the crowd an emotional goodbye with the following words: "The scoreboard says I lost today, but what the scoreboard doesn't say is what it is I have found. Over the last twenty-one years, I have found loyalty: you have pulled for me on the court and also in life. I have found inspiration: you have willed me to succeed, sometimes even in my lowest moments. And I've found generosity: you have given me your shoulders to stand on to reach for my dreams, dreams I could never have reached without you. Over the last twenty-one years, I have found you and I will take you and the memory of you with me for the rest of my life. Thank you."
In 2009, Agassi published his autobiography, 'Open', to the delight of the tabloid press, who seized upon revelations including the fact that the tennis star admitted to using Crystal Meth during his career.
Another of the book's big revelations is that he did not, as he often claimed in interviews, love the game of tennis.
In an interview with Spiegel.de, Andre explained that he believes it is impossible to enjoy tennis. He said that "the maximum [enjoyment he felt on court] were short moments of peace during a match which we, the players, used to call 'the Zone', but you couldn't plan it. It was never constant. And it went by very fast".
The book gives the impression that his father forced him into the game from a very young age and Agassi states that his dad even hung a mobile made from tennis balls above his cot.
When he was older, his father built a ball machine called The Dragon which spat out 2,500 balls a day which Agassi was forced to hit.
Finally, Agassi admits that far from being the confident young tearaway he is often portrayed as, he was "afraid of losing, of the blame and the jokes, of the public and of my father. I really hated tennis".
The one positive from the book is the love and affection Agassi clearly feels for his wife and he stated in the Spiegel.de interview that she too has a "tremendous amount of love and respect and support for [him]".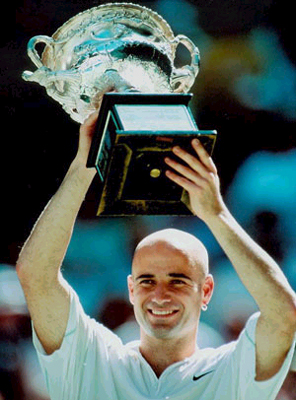 Andre Agassi

Andre Agassi Biography 1/6
Andre Agassi Sports Century Tribute pt. 2