Boris Becker Biography
Boris Becker (b. November 22, 1967) is a former German tennis player.
He was born Boris Franz Becker in Leimen, near Heidelberg, the only son of an architect who built the tennis center where Becker and Steffi Graf played against each other as children. On July 1, 1985, he became the first unseeded player, the first German, and the youngest man (17 years, 7 months) to win Wimbledon. Becker won 49 singles titles over the next 14 years - including 2 more Wimbledons (1986, 1989), the Australian Open (1991, 1996) and the U.S. Open (1989) - 15 doubles titles, and 2 Davis Cups. He also won the 1992 Olympic Men's tennis doubles title with Michael Stich. His career prize earnings totalled $21,966,402.
On December 17, 1993, he married Barbara Feltus, the daughter of an African-American serviceman and a German woman. After the shock of their coupling faded, they became the model for a New Germany. Becker gained the respect of his countrymen for his stance against racism and intolerance. However, all that changed when he asked Barbara for a separation. Becker claims he merely wanted some time out. But, she flew to Miami, Florida with their sons, Noah and Elias, and filed a petition in Miami-Dade County Court, sidestepping their prenup, which had entitled her to a single $2.5 million payoff. The January 2001 pretrial hearing was broadcast live to Germany. Germans sided with Barbara as her lawyer (whom Becker was paying; in her petition, Barbara said she had no net worth) made him out to be a cad. He was granted a divorce on January 15, 2001; she got a $14.4 million settlement, their Florida condo, and custody of Noah and Elias.
His after-tennis life has been plagued by scandal. On February 8, 2001, DNA results forced him to admit paternity of a daughter, Anna (b. March 22, 2000), by Russian-African model Angela Ermakova. The child was conceived in the cupboard of a London restaurant after a drunken Becker fought with Barbara, who then left the establishment; Ermakova was a waitress there. His lawyers at first suggested Ermakova was part of a blackmail plot devised by the Russian Mafia. In July 2001, he agreed to pay her $5 million.
He was convicted of tax evasion on October 24, 2002 when he admitted he had lived in Germany from 1991-93 while claiming to reside in the tax haven of Monte Carlo. He was given two years' probation, fined $500,000, and ordered to pay all court costs.
He plays on the Senior ATP Tour. His tell-all autobiography was published in November 2003. Becker is a member of the International Tennis Hall of Fame in Newport, Rhode Island.
Boris Becker
Boris Becker
Boris Becker
Boris Becker
Boris Becker
Boris Becker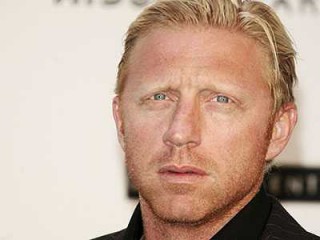 Boris Becker
Boris Becker
Boris Becker
Becker vs. Lendl - incredible match-point