Carlton Fisk
Biography
Date of Birth
26 December 1947, Bellows Falls, Vermont, USA
Birth Name
Carlton Ernest Fisk
Nickname
Pudge
Height
6' 2" (1.88 m)
Mini Biography
Carlton Fisk, a 6' 2" 220 lbs. product of Bellows Falls, Vermont who was raised across the Connecticut River in neighboring Charlestown, New Hampshire, crouched and hit his way to the Hall of Fame in a career played entirely with the Sox: The Boston Red Sox (1969, 1971-1980) and the Chicago White Sox (1981-1993). Along the way, he set major league records for most games played and most home-runs hit by a catcher.
Although he attended Charlestown High School, the teenage Carlton played baseball for the American Legion team in his birth place of Bellows Falls. After graduation, he attended the University of New Hampshire, where he played baseball but also was a star starter on the U.N.H. basketball team. Drafted by the home-town BoSox, he eventually made it up to The Show for a cup of coffee in 1969, but his Major League career was put on hold by more seasoning in the minors and by a military commitment. When he finally established himself in the majors for good in 1972, after another cup of joe in '71, he proved spectacular. He won Rookie of the Year honors and a Gold Glove as catcher while tying Joe Rudi for the American League lead in triples with nine. (He is the last catcher to lead that category.)
A brilliant "quarterback" in terms of calling pitchers, and an extremely tough athlete to boot who was not adverse to jumping over then-unprotected railings into the stands to try to catch foul balls, Fisk quickly established himself as the best-all around catcher in the American League bar one: Thurman Munson of the hated New York Yankees, who became his rival and doppelganger. Fisk and Munson became involved in a long-standing feud, only ended by Munson's death in airplane accident in 1979, that drew in the players on both teams. is also known for his longstanding feud with New York Yankee counterpart Thurman Munson. In the days when catchers blocked the plate with their entire bodies, risking injury in a way no multi-millionaire would today, it wasn't uncommon for a player caught short-stepped before the plate, the catcher with the ball in the mitt ready to make the tag, to try to bull his way through with a tackle or block to try to dislodge the ball from the catcher's mitt, and thus turn a sure out into a scored run. (The greatest and most infamous example of this was when Pete Rose ran over Ray Fosse in the 1970 All-Star game.) On August 1, 1973 at Fenway Park, during a tie game, Munson attempted to score on a missed bunt attempt in the top of the ninth. Munson, the unstoppable force, barreled into Fisk, the unmovable object, which ignited a 10-minute bench-clearing free-for-all that characterized match-ups between professional sports teams from the two cities in the 1980s. Another brawl was ignited when Fisk, the unmovable object, stopped Lou Piniella at the plate during a May 2, 1976 game at Yankee Stadium. Not appreciating Sweet Lou's attempt to score, Fisk hit him with the ball and Piniella hit back, igniting another bench-clearing brawl that was followed by yet another after Bill Lee, who was pitching that day, had words with Yankee third baseman Graig Nettles. It ended badly for the BoSox, as Lee -- a precious commodity as a left-hander who had won 17 games each of the previous three seasons -- suffered a separated left shoulder and missed a part of the season. The Yankees went on to win the American League pennant, just one year after the BoSox had played in the World Series.
The coming of free agency resulted in Fisk and other Red Sox players who wanted to be paid what they felt they were worth falling out of favor with BoSox management. When Red Sox co-owner Haywood Sullivan mailed Fisk's contract for the 1981 season one day after the mandatory deadline, the catcher was declared a free agent and signed with the Sox of Chicago. It was while with the ChiSox that Fisk set his career records, though he chose to go into the Hall of Fame as a BoSox, a New Englander at heart 'til the end.
IMDb Mini Biography By: Jon C. Hopwood
Spouse
Linda Fisk
(? - present) 3 children
Trivia
Drafted by the Boston Red Sox in the 1st round (4th overall pick) of 1967 MLB amateur draft.
Catcher for Boston Red Sox (1969, 1971-1980) and Chicago White Sox (1981-1993).
Member of 1975 American League Champion Boston Red Sox team. Member of 1983 and 1993 American League Western Division Champion Chicago White Sox teams.
Named to 11 American League All Star Teams (1972-1974, 1976-1978, 1980-1982, 1985 and 1991).
Won 1972 American League Gold Glove Award at Catcher.
Played in 2,499 Games (45th All Time), had 8,756 At Bats (70th All Time), 3,999 Total Bases (63rd All Time), 376 Home Runs (54th All Time), 1,330 RBI (75th All Time), 1,386 Strikeouts (57th All Time), 844 Extra-Base Hits (59th All Time), Hit by Pitch 143 Times (18th All Time) and 79 Sacrifice Flies (68th All Time).
Finished in top 10 in voting for American League MVP in 1972, 1977-1978 and 1983.
1972 American League Rookie of the Year for leading league in Triples (9) and having .293 Batting Average, .370 On-base percentage, .538 Slugging percentage, 246 Total Bases, 28 Doubles, 22 Home Runs and 59 Extra-Base Hits.
Hit the most famous Home Run ever hit at Fenway Park on October 21, 1975. That was in game 6 of the World Series, and that HR won the game. In 1998 TV Guide called it the greatest moment in the history of sports TV.
Inducted in to the National Baseball Hall Of Fame in 2000.
Named to Baseball Digest magazine's 1972 Rookie All-Star Team.
In 2004 he was named the greatest New Hampshire athlete of all times
Is the only Red Sox player to have his number retired without having finished his career with the Red Sox, as the retirement criteria used to be that the player in question be a Hall of Fame inductee who spent at least ten years on the team and retired while still with the team. He was given a token job with the team to get around that technicality, which has since been dropped.
Has 2 daughters, Carlyn and Courtney, and 1 son, Casey. Carlyn is the oldest, Casey the middle child, and Courtney the youngest.
Inducted into the Boston Red Sox Hall of Fame in 1997.
Following their 2004 World Series victory, the Boston Red Sox gave Fisk an honorary World Series ring. When the Chicago White Sox won the World Series in 2005, they did the same.
In "Field of Dreams" starring Kevin Costner, Carlton Fisk is the only then current MLB player appearing as himself during the film. There is just one scene in which a baseball game appears on television in which Carlton Fisk is playing for the Chicago White Sox. Fisk appears momentarily on the television screen.
Son of Cecil Fisk and Leona Fisk.
Personal Quotes
If the human body recognized agony and frustration, people would never run marathons, have babies, or play baseball. - After getting hit twice in the crotch with a batted ball
But there was also a little of that thing they say about New Englanders: Being from here doesn't prevent me from doing anything, it just prevents me from enjoying it.
Carlton Fisk
Carlton Fisk
Carlton Fisk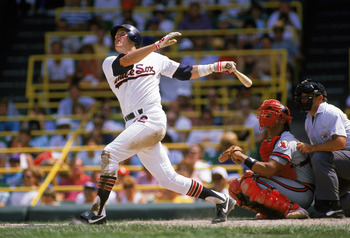 Carlton Fisk
Carlton Fisk
Carlton Fisk
Carlton Fisk's Homerun - Sportscentury
Baseball Hall of Fame - Biographies: Carlton Fisk