Joe Montana Biography
Date of Birth
11 June 1956, New Eagle, Pennsylvania, USA
Birth Name
Joseph Clifford Montana Jr.
Nickname
Joe Cool
The Comeback Kid
Bird Legs
Golden Joe
Height
6' 2" (1.88 m)
Mini Biography
Considered by many experts to be the greatest quarterback in the history of NFL football, Montana was recruited by the San Francisco 49ers from Notre Dame in 1979 after leading the "Fighting Irish" to a Cotton Bowl victory in 1978. "Joe Cool," as he was known for his ice cool disposition in the heat of the game, led the 49ers on field for twelve seasons and played key roles in the San Francisco 49ers four Super Bowl victories between 1982 and 1990. Montana scooped the Super Bowl MVP Award in 1982, 1985 and 1990, however he suffered an elbow injury in January 1991, and missed all of the 1991 season, and most of the 1992 season.
He was traded to the Kansas City Chiefs in April 1993, and spent his final two years with the Chiefs before finally retiring at the end of 1994.
Well remembered for his amazing plays with fleet-footed wide receiver Jerry Rice, and high-stepping running back Roger Craig.
IMDb Mini Biography By: firehouse44@hotmail.com
Spouse
Jennifer Montana
(24 February 1985 - present) 4 children
Cathleen Castillo
(1 July 1981 - 27 June 1984) (divorced)
Kim Monses
(1974 - 1977) (divorced)
Trivia
Has "co-written"/authorized 3 books about himself.
Informed wife #2, Cass Castillo, that he was divorcing her by leaving her a "Dear Jane" letter at the 49ers' front office.
Born at at 3:25pm EDT.
California Supreme Court rejected his appeal to reverse an earlier Santa Clara County Superior Court ruling stating the San Jose Mercury News had the right to sell posters showing Montana in the Super Bowl. The Court ordered Montana to pay the Mercury News over $20,000 in lawyer fees and court costs, and awarded the paper additional fees for defending the appeal. [17 August 1995]
The 49ers picked Montana in the third-round, acquired from Dallas, in the 1979 draft.
Was a member of the last class recruited by legendary Irish coach Ara Parseghian.
Suffered a separated shoulder in the last pre-season scrimmage in 1976 and sat out the entire season.
Sent a telegram to Irish quarterback Rick Mirer before Mirer's debut as a starter in the 1990 season opener reminding him to "take care of my number" (Mirer also wore #3 while at Notre Dame).
Wore number 3 while at Notre Dame, a number worn by many great Irish quarterbacks throughout the years.
Led the Irish to last-minute victories in 1975 vs North Carolina and Air Force, Purdue and Clemson in 1977, and Houston in the 1979 Cotton Bowl, the latter being regarded as the greatest comeback in Notre Dame history. Staged a furious fourth-quarter rally vs USC in 1978, only to see the Trojans pull out a last-second win themselves in a game Coach John Robinson says he still has nightmares about.
Quarterbacked Notre Dame to a National Championship in 1977.
Inducted into the Pro Football Hall of Fame in 2000.
Quarterback for the San Francisco 49ers (1979-1992) and Kansas City Chiefs (1993-1994).
An only child.
In his pro career, Montana completed 3,409-of-5,391 passes for 40,551 yards with 273 touchdowns and 139 interceptions. In 23 postseason games, Montana completed 460-of-734 passes for 5,772 yards with 45 touchdowns and 21 interceptions.
Montana started playing peewee football when he was eight, a year younger than the legal limit. His father listed his age as nine.
Has endorsed Coors beer, Mervyns stores and DirecTV since his retirement.
Met Jennifer Montana when they did a Schick razor commercial. He proposed by hiring an airplane with a streamer reading "Jen, will you marry me?" Children: Alexandra Whitney (b. 10 October 1985), Elizabeth Jean (b. 20 December 1986), Nathaniel Joseph (b. 3 October 1989), and Nicholas Alexander (b. 28 April 1992).
Was ready to quit on the spot in the 1977 Purdue game when head coach Dan Devine sent Rusty Lisch in to replace the injured Gary Forystek. With the Irish still trailing 24-14 late in the 3rd, Devine replaced Lisch with Montana, the third-string quarterback. He engineered a 31-24 victory, and remained the starting QB for the rest of his Notre Dame career.
Earned the nickname "Joe Cool" because of his ability to remain calm in the biggest of game situations. The best example of this was in Super Bowl XXIII against the Cincinnati Bengals. With the 49ers on their own 8-yeard line, down by three points with 3:20 left to go in one of the biggest games of his career, Montana pointed toward the stands and said to tackle Harris Barton, "Hey look over there. Isn't that John Candy?" He then marched the 49ers on a 92-yard drive for the game-winning touchdown.
Ranks 9th on NFL All-Time Pass Attempts List (5,391).
Ranks 8th on NFL All-Time Pass Completions List (3,409).
Ranks 8th on NFL All-Time Gross Yards Passing List (40,551).
Ranks 7th on NFL All-Time Touchdown Passes List (273).
Ranks 58th on NFL All-Time Passes Intercepted List (139).
Tied with Roger Staubach at 30th on NFL All-Time Times Sacked List (313).
Ranks 39th on NFL All-Time Yards Lost List (2,095).
Ranks 5th on NFL All-Time Passer Rating List (92.26).
Oliver Stone named the main character (Tony Montana) in his 1983 movie Scarface (1983) after Montana.
Attended Ringgold High School in Monongahela, PA.
Lives on a 600-acre estate in Calistoga in Northern California's Napa Valley district where he enjoys cultivating grapes for wine-making. [2007]
Of Sicilian-Italian descent.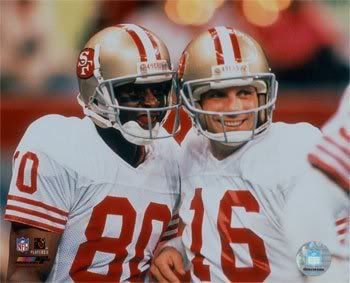 Leonard Marshall knocking Joe Montana out! 1990 NFC Championship game. Giants vs. 49ers