Katarina Srebotnik Biography
Katarina Srebotnik (born March 12, 1981 in Slovenj Gradec) is a Slovenian professional tennis player, coached by Biljana Veselinovic. Srebotnik is right-handed, 1.80 m, weighs 65 kg and lives in Dubai. She reached a career-high ranking of No. 20 on the Sony Ericsson WTA Tour on August 7, 2006. Her nickname amongst fans is Kata.
Although she has a career-high of No. 20 in singles, she has had better results in the doubles circuit. With 13 WTA doubles tournaments on her name and a doubles career high of no. 7, she is considered as one of the better doubles players on the WTA Tour.
Career
In juniors, she won the 1998 Wimbledon singles title and was singles runner-up at the US Open. Srebotnik attained the second spot on the junior rankings in 1997 and 1998.
Tour Debut (1995-1999)
Srebotnik made her ITF Debut in 1995. She won the ITF singles tournament in Ismailia (1996), Zadar (1997); Sibenik (1998) and in Dubai (1999). In 1998, Srebotnik won her first Tour doubles title at the Makarska Open (with Tina Krizan), and became later that year doubles runner-up at Maria Lankowitz (also with Krizan). In 1999, her win at the ITF tournament in Dubai, gave her 'feed up' direct entry into her first-ever singles Tour event at Estoril, where she became the fourth player ever to win her Tour debut event by defeating Kuti Kis in the final. She broke into the Top 100 on April 12, 1999 at No.88. Srebotnik reached the semifinal at Palermo, and played in her first Grand Slam main draw at Roland Garros, losing in the second round; but winning the mixed doubles tournament with Norval.
2000-2004
Srebotnik reached her first Tier I semifinal in Tokyo at the Pan Pacific, which she lost to Sandrine Testud. Afterwards, on February 7, 2000, Srebotnik broke into the Top 50 at No.49. She won her fourth career doubles title at Estoril (with Krizan). Srebotnik lost in the first round at the 2000 Olympics.
Srebotnik and Tina Krizan won their only doubles title of 2001 at Hawaii. They reached their biggest doubles final of their career in Toronto at the Canadian Open by defeating Martina Navratilova/Arantxa Sánchez Vicario in the semifinal, and they also became doubles runner-up at Estoril. They qualified for their debut doubles season-ending Championships. Srebotnik reached a career-high doubles of No.19 on October 8.
In 2002, Srebotnik reached the finals at Bogotá (losing to Fabiola Zuluaga) and Acapulco (defeating Paula Suárez) in the final. She reached the fourth round at Roland Garros, which is her career-best Grand Slam. She defeated Gala Leon Garcia in the first round, Conchita Martinez Granados in the second and Emilie Loit in the third, before falling to No. 9 Jelena Dokic. Srebotnik later achieved her then-best win at Los Angeles by defeating No.6 Kim Clijsters. She reached the semifinal in Luxembourg. First doubles alternate at season-ending Championships with Krizan, losing in the first round.
2003 saw Srebotnik reaching her fourth Tour final at Palermo. She won the Bogotá doubles title with Svensson. Srebotnik reached her second Tier I quarter final in Toronto at the Canadian Open. She won her second Grand Slam mixed doubles title at the US Open, this time with Bob Bryan.
Srebotnik's 2004 season was highlighted by reaching the semifinal at Palermo and the quarterfinal at Strasbourg (losing to Lindsay Davenport) and Forest Hills. She was a member of the Slovenian Fed Cup Team, which suffered from a first round loss against the USA (0-3). At the 2004 Olympics, Srebotnik lost in the second round in singles and in the first round in doubles (with Krizan). She won her seventh doubles title in Tokyo at the Japan Open (with Shinobu Asagoe) Srebotnik withdrew from the Pan Pacific (Tokyo), Bogotá, Acapulco and Indian Wells with a right elbow injury.
2005
Her best season to date, highlighted by two singles and four doubles titles, and her career-best victory over Amelie Mauresmo.
Srebotnik captured her third and fourth career Tour singles titles at Auckland (defeating Shinobu Asagoe in the final, while she also teamed with Asagoe for the doubles title) and in Stockholm (defeating world No.14 Anastasia Myskina in the final, and teaming with Emilie Loit for doubles title).
Srebotnik was the only player in 2005 to sweep singles and doubles titles twice. She also finished runner-up at Portoroz, losing to Koukalova (now Zakopalova) in three sets in the final. She also became runner-up in doubles with Kostanic.
Srebotnik reached the quarterfinal five times, at Tier II Antwerp (lost to Anastasia Myskina), Tier I Charleston (losing to Elena Dementieva in three sets), Budapest (losing to Laura Pous Tio in a third set tie-break), Tier I Zürich (upset No.4 Amelie Mauresmo 6-2 6-0 for her career-best victory en route; losing to Ana Ivanovic) and Hasselt (losing to Safina in a third set tie-break).
Her best Grand Slam finish was the third round at Wimbledon (losing to Maria Sharapova 6-2 6-4, but she was the only player to break the defending champion's serve before Sharapova's semifinal loss to Venus Williams).
A new career-high singles ranking of No.28 came on November 7.
In addition to Auckland and Stockholm, Srebotnik also won doubles titles at Budapest and Hasselt (both with Emilie Loit). She reached the US Open mixed doubles final (with Zimonjic; losing to Daniela Hantuchova/Mahesh Bhupathi). Srebotnik withdrew from Canberra with a left adductor strain.
2006 Srebotnik's 2006 highlights are:
Her singles career high of no. 20 on August 7
Winning of doubles tournaments in Antwerp (with Safina) and Amelia Island (with Asagoe)
Winning the Roland Garros mixed doubles tournament (with Zimonjic)
Reaching the final in Cincinnati (won from Schnyder in 3 sets in the semi-finals, lost to Vera Zvonareva in straight sets in the final).
At the 2006 US Open she defeated Akiko Morigami (6-2,6-3) and Ekatarina Bychkova, before falling to Lindsay Davenport (6-3,3-6,6-7(5-7)) in the third round. She held match points in the third set, but finally lost in a third set tie-break thriller. However, many people consider this match as one of the best matches in her career and as a major breakthrough in her singles career.
Also at the US Open, she reached the doubles finals partnering Dinara Safina, but they lost to Nathalie Dechy and Vera Zvonareva (6-7, 5-7).
As top seed and locals' favourite, she was stunned by Sucha (3 sets) in the first round in Portoroz, Slovenia (her home country).
In Stuttgart she beat Nathalie Dechy in straight sets (6-1, 6-4) in the first round. In the second round, Srebotnik leaded 6-4 and 4-2 against number 4 seed Elena Dementieva. In the latter stages of the third set, Dementieva suffered from cramp in her thigh and she had to take an injury break. While Dementieva could barely run, Srebotnik was again few points from victory. But Dementieva fought back and gained the victory at the very last moment (6-4, 5-7, 5-7).
Also in Stuttgart, she reached the semi-final in doubles with Safina, losing to Stubbs and Black (4-6, 4-6).
In the Zürich Open, Srebotnik reached the semifinal in a Tier I tournament for the first time in six years (Pan Pacific, Japan). In the first round, she stunned two-time Grand Slam champion and No.29 Mary Pierce (6-3, 7-5); and in the second round, she stunned again by beating two-time Grand Slam finalist and World No. 7 Elena Dementieva in straight sets (6-1, 6-4), winning her first match ever against Dementieva. In the quarterfinal, Srebotnik beated Maria Kirilenko in straight sets (6-3, 6-2), reaching the semifinal. In that semifinal against number 3 and second seed Maria Sharapova, she got a set point in the first set at 6-5, just to lose the match in straight sets (6-7, 2-6).
Also in Zürich, Srebotnik and Liezel Huber lost the doubles final to Cara Black and Rennae Stubbs (5-7, 5-7).
In Linz, Srebotnik lost in the first round to Russian Anna Chakvetadze (5-7, 2-6), but she reached the doubles final with Corina Morariu, losing to regular doubles duo Lisa Raymond/Samantha Stosur (3-6, 0-6).
Srebotnik withdrew from the Gaz de France Stars tournament in Hasselt due to fatigue.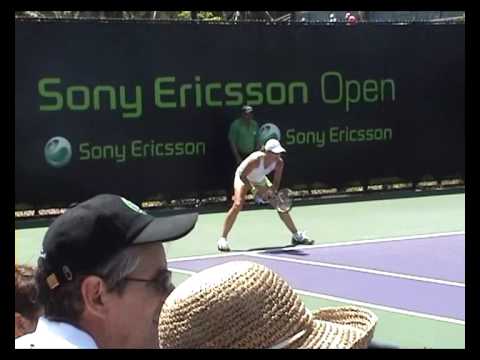 Katarina Srebotnik
Ana Ivanovic vs Katarina Srebotnik
Katarina Srebotnik vs Maria Sharapova