Lito Sheppard Biography
Lito Sheppard, who plays Cornerback and wears jersey number 26 for the New York Jets in the National Football League, was born on April 8, 1981, in Jacksonville, Florida. He stands 5 feet 10 inches and weighs 194 lbs. After playing college football at Florida, he was drafted in the 1st round in 2002, 26th pick overall.
He made his professional debut in 2002 while playing for the Philadelphia Eagles.
Before joining the New York Jets in 2009, he has also been a member of the Philadelphia Eagles from 2002-2008
He was a Second-team SN Freshman All-American in 1999, First-team All-SEC in 2000 and 2001, Pro Bowl selection in 2004 and 2006 and All-Pro selection in 2004.
Sheppard is the cousin of current Broncos wide receiver Jabar Gaffney who played for the Eagles during the 2006 preseason.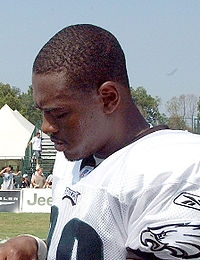 Lito Sheppard int vs cowboys in 2006
Lito Sheppard - Playing various positions - Weplay