Anastasia Myskina Biography
Anastasia Andreyevna Myskina (born July 8, 1981, Moscow, Russia)
is a professional tennis player from Russia. Tennis career
Myskina turned professional in 1998, the year in which she broke into the WTA top 500.
1999 - In only her second Tour main draw in Palermo, won her first WTA title. Made her debut in Grand Slam play at the US Open, and in Fed Cup (playing doubles).
2000 - Scored first career Top 20 victory over No.17 Barbara Schett en route to Sopot semifinal. Debuted at Roland Garros and Wimbledon, played Sydney Olympics. Reached first Tier I quarterfinal in Zurich (lost to world No.1 Martina Hingis).
2001 - The first half of the season was plagued by injury that forced Myskina to miss the Australian Open. As a result she fell out of the Top 100 World Rankings. Solid indoors performance; made it to the quarterfinals in Leipzig (became the first Russian to beat Anna Kournikova) and to the semifinals in Moscow (first career Tier I SF).
2002 - A breakthrough season. Scored her first Top 10 win over defending champion Jelena Dokic in Rome (entered Top 20 afterwards); reached back-to-back grass-court finals in Birmingham and Eastbourne (rose to No.15 in the rankings); won first Tier II title in Bahia; another runner-up finish in Leipzig confirmed her spot in WTA Tour Championships; finished the season within Top 15 for the first time.
2003 - Reached her first Grand Slam quarterfinal in Melbourne Park. After claiming the title in Doha (defeated Elena Likhovtseva in the first all-Russian final in WTA history) she cracked the Top 10. Established her place among the game elite with a win in Sarasota. Mediocre results during the summer season were followed by a quarterfinal appearance at the US Open, back-to-back titles in Leipzig (defeating No.1 Kim Clijsters and No.2 Justine Henin-Hardenne) and Moscow (first Tier I title; became the first Russian woman to win Kremlin Cup), and finals in Philadelphia. Qualified for the Tour Championships. Earned more than $1 million in prize money and finished the year in the Top 10 for the first time in her career.
2004 - Best season to date, highlighted by a Grand Slam win at the French Open (saved match-points in the fourth round against Svetlana Kuznetsova, then beat past World Number 1s Venus Williams and Jennifer Capriati as well as compatriot Elena Dementieva in an historic all-Russian Grand Slam final). Became first female Russian to win a Grand Slam singles title. Earlier in the year she defended her Doha crown (afterwards breaking into the Top 5 - first female Russian to achieve that feat). Followed her win in Paris she rose to No.3 in the rankings. Reached final in San Diego (snapped Maria Sharapova's 14-match winning streak that included Wimbledon and beat Vera Zvonareva 17-15 in a third set tie-break, saving 9 match-points, winning the longest final set tie-break in WTA Tour history). Lost Athens Olympics semifinal to Henin-Hardenne having led 5-1 in the final set. Rose to a career-high No.2 in the rankings. Recovered from the tough loss to win Kremlin Cup for the second straight year (beat No.2 Lindsay Davenport for the first time in 5 meetings en route). Finished on the top of her group at the Tour Championships (scored her second win over a world No.1 by again beating Davenport) but lost in the semis to the eventual champion Sharapova. Led Russia to its first Fed Cup title winning 8 out of 9 matches played (won all 3 matches in the final). Finished the season as world No.3 (career-best year-end rank for a female Russian), won over $2 millions in prize money, scored ten Top 10 wins during the season.
The first half of 2005 was poor due to personal issues revolving around her mother's health. Myskina surrendered Doha and Roland Garros titles in the very first round (became the first Roland Garros champion to lose in the opening round their defending year). Bringing an 8-10 win-loss record to the beginning of the grass-court season, Myskina managed to turn it around at Wimbledon by reaching her career-first quarterfinal at the event with three comeback wins (including wins over Jelena Jankovic from a 1-5 final set deficit, and over Dementieva being 1-6 0-3 down and facing matchpoints in the second set tiebreak). Fell out of the Top 10 in August. Won 10th career title in Kolkata beating lower-ranked opponents. Beat newly-crowned Wimbledon champion Venus Willaims in Fed Cup semifinals but lost both of her matches in the final. Finished inside Top 15 for the fourth straight time.
2006 was another disappointing season for Myskina. Having had several chances to return to the Top 10, she failed to convert any of them. In Warsaw suffered her worst defeat in terms of the rankings on WTA Tour level falling to a qualifier ranked No.309. Showed splashes of her old form during the grass season, having reached in spectacular fashion the final in Eastbourne (losing to Henin-Hardenne in a close final concluded in a third set tiebreak) and quarterfinals at Wimbledon (lost to eventual champion Amelie Mauresmo in three sets). Solid performance at first two Grand Slams (4th round at both Australian and French Opens). After Wimbledon her game has completely fallen apart; along with second straight runner-up finish at Tier IV in Stockholm she didn't manage to win a single match in North America going 0-3 during the US Open Series. The downfall reached its nadir with a first round loss at the US Open, having entered the event under an injury cloud carried over from New Haven. Anastasia sat out for a majority of the indoor season with a foot and toe injury, pulling out of Stuttgart and her home tournament in Moscow. She returned to play in Zurich, where she lost to unknown Swiss qualifier Timea Bacsinszky 6-3 6-3.
Playing style
Myskina is one of the better baseline players in the game today, as shown with her French Open title in 2004. Despite this she prefers faster court surfaces, although having all the hallmarks of a genuine clay court champion (fast feet, stamina, all court play, deft touch and court smarts). Her game is characterized by a combination of consistent rallying and aggressive baseline points. Known as one of the smartest players on the tour, Myskina often out-thinks her opponents, toying with them, thus forcing them into error. Her backhand is her best shot, as her forehand tends to break down during matches. She is adept at using the 'angles' of the court to exploit slower opponents, and is able to mix the pace of her groundstrokes during a point. The major weaknesses in her game are her second serve, her forehand, and occasional inconsistency.
Personal life
Her German coach, Jens Gerlach, is also a former boyfriend. Myskina's supposed current boyfriend is HC Dynamo Moscow hockey player Alexandr Stepanov, and she has also been linked to Austrian tennis pro Jürgen Melzer. On 10 October 2006 Melzer commented: "We´re happy as a couple, but everything else is none of your business, it´s our private life!"
In October 2002, Myskina had a series of photo's taken for GQ magazine by the photographer Mark Seligerfor a spread in the October 2002 edition of GQ, in which one approved photo of her fully clothed was published. The set included some topless shots, including some of her astride a horse. After she won the French Open in 2004, the topless pictures were published in the July/August 2004 issue of the Russian magazine Medved (Bear). In August 2004, she filed an $8 million USD lawsuit against the men's magazine GQ for allowing her topless photographs to appear in a Russian magazine Medved without her consent. On June 19, 2005 U.S District Judge Michael Mukasey ruled that Anastasia Myskina could not stop the distribution of the topless photos, because she had signed a release. Myskina had claimed that she did not understand the photo release form and that she was not fluent in English at the time.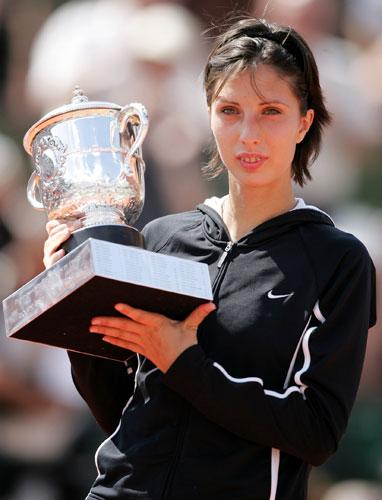 Justine Henin vs Anastasia Myskina 2004 Indian Wells Highlights
Maria Sharapova vs Anastasia Myskina WTA Tour Championships Los Angeles 2004 Last Game