Frankie Albert Biography
The first modern T-formation quarterback, Albert was Stanford's starting single-wing tailback in 1939. When Clark Shaughnessy became the school's coach in 1940, he installed the T-formation and moved Albert to quarterback.
The new formation called for skilled ball-handling and faking, as well as accurate passing, and Albert was very good at all three skills, as well as kicking. He had a 79-yard punt against Oregon State in 1940. Stanford was undefeated that season, and Albert kicked all three extra points in a 21-13 win over Nebraska in the Rose Bowl. He was named All-American quarterback and finished third in Heisman Trophy voting.
Albert was an All-American again in 1941, when Stanford won 6 of 9 games. After serving in the Navy in World War II, he signed with the San Francisco 49ers of the new All-America Football Conference. During the AAFC's four years, the 49ers were always just behind the Cleveland Browns, and Albert was usually overshadowed by Otto Graham, the Browns' great quarterback.
However, in 1948 he led the AAFC with 29 touchdown passes and shared the Most Valuable Player award with Graham. He was also named Pro Football Player of the Year by Sport magazine. The following season, he threw 5 touchdown passes in a 56-28 win over Cleveland, had an 82-yard punt against Buffalo and led the AAFC with a 48.2 yard punting average. He had to be named to the All-AAFC team, and he was--as a halfback, a position he hadn't played since his sophomore year at Stanford. Graham was again the All-AAFC quarterback.
The AAFC was absorbed into the National Football League in 1950, and the 49ers were one of three teams, with the Browns and the Baltimore Colts, that entered the NFL. Albert played in the first Pro Bowl that season. The next two years, he shared the quarterback position with Y. A. Tittle, and in 1953 he closed out his professional career with the Calgary Stampeders of the Canadian Football League.
Albert returned to the 49ers as head coach in 1956 and had a 19-16-1 record in three seasons.
Frankie Albert
Frankie Albert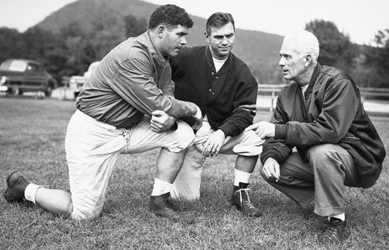 Frankie Albert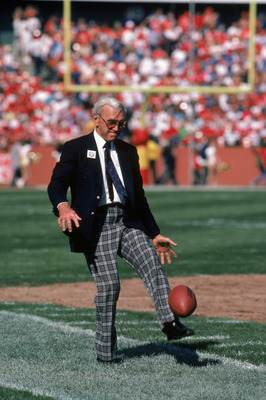 Frankie Albert
Frankie Albert
Frankie Albert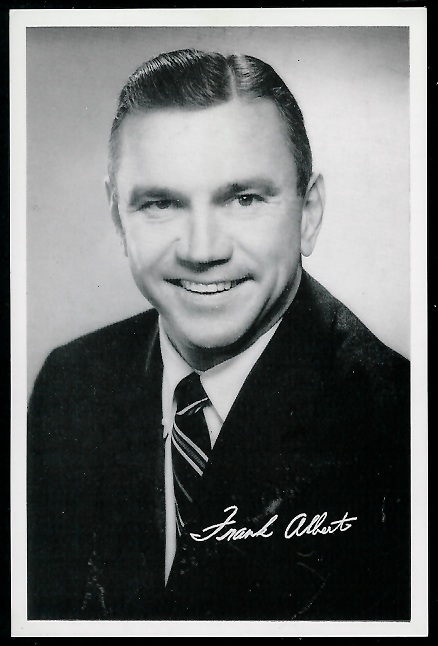 Frankie Albert
Frankie Albert
NFL Top Ten Lefty QB's #4 Frankie Albert
Frankie and Albert