Irina Khromacheva Biography
Irina Khromacheva was born on May, 12th 1995 in Russia's capital the city of Moscow. Since the childhood she was very cheerfully busy child. Her parents tried to find whenever it was possible a time for various developing exercises, so she has learned to walk early enough. At the age of three years she was signed up for figure skating. But once in the winter she has unsuccessfully fallen on a skating rink and doctors ascertained a shin fracture. After that it was finished with figure skating though till now she's skating with pleasure, but not quite often. In parallel with figure skating Irina attended an art school. She didn't came in with the painting well enough but the clay modeling turned out mush better. Unfortunately the going in for tennis didn't leave a much time to continue art education.
Once in the summer of 1999 Irina's parents went to Sokolniki park to play tennis and have taken her with them. While taking a break for rest they gave a racquet to Irina, and it she surprisingly quickly begun to hit the ball. On the way back home, passing by the Shiryaevo Pole courts parents not shelving have decided to show their daughter to the tennis trainer. She appeared to be Elena Viktorovna Nikishchihina. Having tested the child, it has appointed the first training for next day. So the tennis life has begun.
After a year of employment Irina has passed in Marina Andreevna Maryenko's group who again recruited the kids after a birth of her son. Training process became much more intensive, while an abundance of courts allowed to spend a lot of time playing. Mrina Andreevna were assisted by her father Andrey Fedorovich who was engaged in children physical training. There was a great amount of work done, wich yielded a good results in the future. They trained the whole day by summer, and for two-three hours after school daily in the winter, with the exception of Sundays. After seven years of employment on Spartak, in the summer of 2006, Khromacheva Irina went over to training in DTSS "Belokamennaya" helmed V.N.Kamelzon where Natalia Rozhkova and Michael Fayngersh became her trainers. The further perfection of her skill passed on a courts of this school.
Her first official competitions Irina played in december of 2003 года - Locomotiv superiority. After training games in a group the competition wasn't such a big deal. As a result was a first place, the first certificate of merit and the first cup. There was many victories after that, several times Irina won superiority of Moscow on her age. Many competitions were played on a higher age group, and is often successful. In 2005 Irina Khromacheva as a part of Russian national team lineup has left on her first international competitions - informal European superiority among girls 12 years and under. They took the first place. On the summer of 2006 in a Moscow picked team lineup she became a champion of Russia.
On the winter of 2007 Хромачева has begun to take participation in personal international tournaments for the age under 12 years. The first tournament took place in Denmark. The road has appeared to be not easy – difficult flight, a long waiting for a train on a penetrating wind of railway station. But despite all that Irina has gained 5 victories and became the winner of this tournament. From Denmark Khromachevs have moved to next tournament in Helsenborg (Sweden). Having passed the qualification, Irina successfully came up to a semi-final of these competitions where she has conceded in three sets to a future winner. After that there was a victories in Vilnius (3 category), in Umaga (2), Magalufa (3), Sergiev-Posad (2) following.
Another side of Khromacheva Irina's talent opens in doubles competitions. The majority of doubles tournaments where she took part in has won: Superiority of Russia, the Cup of the Kremlin (1), Saint Genevieve (1), Tarb (1), Livorno (1) and many other.
Since the second half of 2007 Khromacheva began to play tournaments of the maximum (1) category in the senior age group. The first tournament of this category was well-known Paribas in France, but it has appeared unsuccessful for Irina. In the first round she loose to much more skilled and 2 years older girl in three sets. But Kromacheva nevertheless has got own back on this tournament by reaching the final in the doubles. The next first category tournament was the Cup of the Kremlin which runs in Moscow. Here Irina has has reached semi-final in singles category and has won the doubles. Further followed the tournaments Saint Genevieve (France), Bolton (England) and Tarb (France) where Khromacheva has reached quarter-final, semi-final and quarter-fin and Tarb were in doubles so Irina have gained a reputation as one of the best doubles players.
Her first victory in first victory tournaments Khromacheva Irina was celebrating in Italian Livorno on March, 2008 where she became absolute champion, both in singles, and in doubles category. That victory has allowed her to rise to the second line of the European rating among girls 14 and under. Having left Livorno after a final, Irina played next day two games of tournament of 1-st category in Portugal. Despite weariness, she has got trough to a semifinal in these competitions where she loose in three to a future winner, showing sports character and will.
On the summer of 2007 in lineup of Russia national team she has won the first officiall European superiority among girls 12 and under. Acting as team's first number, she has played with the strongest girls of her age and has not lost a single match. And already on the winter of 2008 Хромачева has won a European team superiority among girls 14 and under.
At the time Irina Khromacheva is training in Justine Henin Academy in Belgium, near to Brussels. Trainings passing under direction of a skilled Academy trainers with the participation of Carlos Rodriguez - the trainer for the ex-first world's racquet.
Irina Khromacheva
Irina Khromacheva
Irina Khromacheva
Irina Khromacheva
Irina Khromacheva
Irina Khromacheva
Irina Khromacheva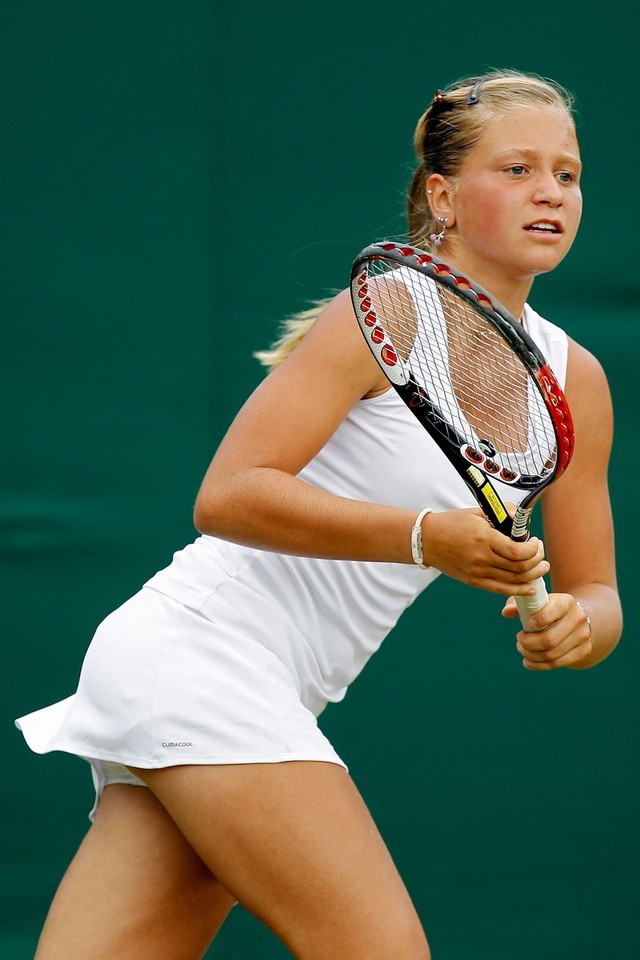 Irina Khromacheva
Irina Khromacheva
Irina Khromacheva/Elina Svitolina