Nicole Vaidisova Biography
Nicole Vaidisova, although born in Nuremberg ((former West) Germany), is a czech hot tennis player who is now retired from professional competitions.
The former top-10 (Nicole Vaidisova's highest ranking is 7, by age of 17) got to the last 16 or better in every Grand Slam. In 2006 she reached the semi-finals of Roland Garros after beating home favourite and world number 1 Amelie Mauresmo, before falling into the hands of Svetlana Kuznetsova, after being just two points away from the final for several times.
In the beginning of the next year, Nicole Vaidisova once again reached the semi-finals of another Grand Slam, the Australian Open, after beating top-10 Elena Dementieva and losing to the eventual champion, Serena Williams.
She retired prematurely by the age of 20, citing exhaustion of the tour as a primary reason. She married fellow czech tennis player Radek Stepanek in 2010, ad comments suggest that their relationship may be a strong factor in her decline and lack of interest in the sport.
She is also known for having one of the best-looking bums in videogaming history (Virtua Tennis 3).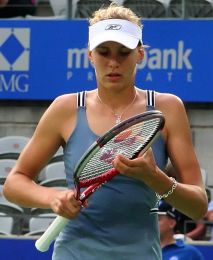 Nicole Vaidisova
Hot Tennis Players - Nicole Vaidisova
Nicole Vaidisova vs Flavia Pennetta | 2007 Highlights