Ryan Doumit Biography
March 31, 2012 -- As spring training winds down and the 2012 regular season starts in just a few days when the Twins visit Baltimore, Ryan Doumit is right where he wants to be.
When Doumit signed with Minnesota early in the free agent season, he described the decision as a "no brainer," having become familiar with the Twins through a high school teammate drafted by them the same year Doumit was drafted by Pittsburgh. Earlier in the spring training season he described his move to the Minnesota camp and the American League as "fairly seamless," even when his misgivings of playing first in a game were tossed aside and he found himself playing first in a game against the Yankees recently.
He's played outfield, first, catcher and designated hitter.
With ST winding down, he's hitting .325 and his stride.
As reported today by FoxNews:
"I feel good," Doumit said. "I want to save something for the season, but right now, I'm right where I want to be."
For longtime Doumit fans that watched him get mired down in Pirates frustration, here's a well-deserved change:
"He's a joy to have on a baseball team," said Twins manager Ron Gardenhire. "He's game on. He's shown us that he can move around just anywhere that we put him, and he's shown that he's really one of those whatever-you-need kind of players. We really like that around here."
SpringTraining2012/RyanSTFri33.jpg
Spring Training Photo Album
A bazillion photos of Ryan Doumit in his first spring training with the Minnesota Twins. These photos were taken in late February, before the games started.
This exclusive ryandoumit.com album is now online.
Use the link below!
http://ryandoumit.com/PhotoAlbums/album_1332681560/pg3.html
SpringTraining2012/RyanSTFri15.jpg
Ryan Doumit in spring training practice in Fort Myers, Fla.
Defense, offense and a locker full of leather
March 12, 2012 -- Ryan Doumit showed off his arm and solid defense in a Spring Training game against the Tampa Bay Rays today by catching two base runners stealing, earning the praise and general "I told you he was a good idea" comments from the management of the Minnesota Twins.
The Twins brought Doumit in for the versatility, with his ability to catch and play first and outfield, and be a designated hitter with power for the American League team.
It could force the Twins to carry three catchers into the regular season.
"I'm going to use Doumit," Manager Ron Gardenhire said in an article in TwinCities.com. "That's almost a given, but not totally a given. I'm counting on him in the lineup along with Joe (Mauer). So when you play both catchers...I'm trying to see if there's any way around not keeping three, but it's really hard for me to do that."
Back in the clubhouse, Doumit has a locker full of leather, according to another report. An infield glove in case he's called to first base (reportedly not his first preference), an outfield glove (he's played right and left so far in spring training games) and his catcher's glove.
In the StarTribune article Doumit joked that he needs a closer's glove and a shortstop glove to complete the set, but his talent in the field and at the plate is why the Twins nabbed him so early in the free agent season.
From the StarTribune:
"That's the great thing about it, I finally got that guy who is a multipositioned guy who also catches," manager Ron Gardenhire said. "I've kind of been wanting that for a few years around here. It's good to have him here."
Use the links below to read both articles.
Read about Doumit's defense against the Rays
Read about Doumit's locker full of leather
Twins/RyanSTFri1.jpg
Ryan Doumit starts his day at Spring Training on Feb. 24.
Let the games begin!
March 3. 2012 -- Spring baseball starts today across the Grapefruit League in Florida, with the Minnesota Twins' No. 18 Ryan Doumit and his team-mates playing the Tampa Bay Rays.
Doumit made his first game appearance as a Twin in the Designated Hitter position in his inaugural year in the American League, getting two at-bats and a double in the spring training game.
Twins fans visiting the Fort Myers complex and Hammond Field are feeling good about Doumit's presence on the team, many told ryandoumit.com last week. They love his bat, and look forward to him spelling their superstar catcher Joe Maurer.
Several lifelong Twins fans ceased their conversation this past Monday to watch Doumit take batting practice, appreciating what they saw as Doumit alternated between ripping the ball down the line and sending it over the fence.
"He's a worker," one fan said of Doumit as he watched No. 18 catch in the bullpen. "He hustles between the fields and he's all business."
A new photo album of Doumit as a Minnesota Twin will be uploaded soon, so check back!
Day 1: Doumit says 'So far, so good'
Feb. 18 -- At the Twins' spring training facility, Ryan Doumit took batting practice today and talked to the media about his role with the Twins, and his expectations for the season.
Follow the link below to read the full story.
Read about Ryan Doumit's first day
It's time! Pitchers and catchers report to Fort Myers for Spring Training
Feb. 18, 2012 -- It's the day baseball fans long for all winter: Pitchers and catchers report to spring training, the first day of a new year of baseball!
Links to pictures and articles about the Twins spring training in Fort Myers will be posted here as available with any tidbits about the Twins' versatile signing in slugger Ryan Doumit.
Twins fans: any 'help' you can throw this way in terms of information on the Twins would be welcome, this is a new direction here in following Doumit outside of the Pirates system. There's an email link at the bottom of this page to turn that info in! ryandoumit.com will be at the facility in Fort Myers late next week to advance the cause of news and information on Superman.
First photo of the baseball year!
doumittwinsfest12_droidtrader1.jpg
Ryan Doumit signing autographs at TwinsFest 2012. Photo coutesy of droidtrader.
Doumit joins new team at TwinsFest 2012
Feb. 2, 2012 -- Ryan Doumit joined his new team mates at TwinsFest 2012 in Minneapolis this past weekend.
Approximately 30,000 fans filled the Metrodome over the three-day event to meet 60 former and current players, get autographs, listen to Q&A sessions and gear up for the 2012 season.
Drodtrader, a blog and Twins memorabilia Web site, snagged a picture of Doumit signing for the first time in his career as something other than a Pirate, as shown here.
Twins pitchers and catchers report to Ft. Myers, Fla. for training camp on Feb. 19.
Ryandoumit.com effusively thanks Roger at www.droidtrader.blogspot.com for generously sharing this photo from Twinsfest 2012.
ryansigning1.jpg
Twins fans: Get ready to meet Superman!
Dec. 16, 2011 -- Minnesota Twins fans can purchase tickets now for TwinsFest 2012, and by attending get a chance to meet Ryan Doumit.
Over 45 current Twins players are confirmed to attend the event Jan. 27-29 in the H.H.H. Metrodome in Minneapolis.
Doumit was signed in late November as a catcher with the potential for designated hitter, first base and outfield roles. He had spent his nine seasons in the majors with the Pittsburgh Pirates who decided not to take Doumit's two-year contract renewal option this fall.
Twins fans can brush up on the baseball history of Ryan Doumit by reading a detailed article about his rise to the majors on this site by clicking on the "Inside Ry" tab in the navigation bar on the left.
Follow the link below to read more about TwinsFest and find out where to get tickets. General admission is $9 presold, and the presale ends Jan. 26. Tickets at the door are $15.
Information on TwinsFest
Twins Manager sees Doumit as a catcher
Nov. 27, 2011 -- Since the Twins signed Ryan Doumit last week, baseball writers, baseball bloggers and Twins fans have discussed online the merits of Doumit's versatility as a catcher, outfielder, first baseman and designated hitter. His new manager, however, had this to say (from ESPN Twin Cities):
General manager Terry Ryan said in a conference call, "First and foremost we consider Ryan a catcher."
Terry Ryan added the versatility is a plus, and Twins bloggers have been writing that Doumit's addition to the offense would be welcome - some going so far as to sketch in the 2012 line up and put Doumit batting fifth.
tribbanner.jpg
It's official: Superman to play for Minnesota Twins
Nov. 23, 2011 -- The Minnesota Twins announced today that they have signed Ryan Doumit to a 1-year, $3 million contract to back up their catcher and serve as a designed hitter and potential outfielder.
Baseball sources announced last week that the deal was done "pending physical." The deal was announced by the team today, meaning the physical was satisfactory.
Doumit was drafted in 1999 in the second round by the Pittsburgh Pirates and has spent seven major league seasons with them.
From Jennifer Longosch's blog entry about Doumit's new team, here's what Doumit had to say:
"I'll always have a special place in my heart for Pittsburgh," Doumit said. "I grew up there as a baseball player. By the same token, it was time to go someplace else. I'm excited to go to the American League and face unfamiliar teams in new cities and have new challenges."
Follow the link below to the Twin's formal announcement.
Minnesota Twins announce Doumit signing
It's Twins!
Nov. 18, 2011 -- ESPN's Jerry Crasnick is reporting that according to a baseball source, Ryan Doumit has agreed to a one-year, $3 million deal with the Minnesota Twins. He's to have the deal-sealing physical next week.
Baseball Nation is reporting Doumit will be backup catcher, designated hitter and sometimes corner outfielder.
Looking ahead, the Twins come to Pittsburgh for interleague play this year. Pittsburgh area fans can catch Superman in new colors when the Twins play Cleveland at Cleveland (about two hours away) in June, August and September.
One offer declined so far...
Nov. 15, 2011 -- Several media sources have reported that Ryan Doumit declined a one-year contract offered by the Los Angeles Dodgers for just under $3 million.
The major league sports writer for a Minneapolis paper verified in his online newspaper-based blog that Doumit is of interest to the Minnesota Twins.
As stated in articles below, it has been reported Doumit is seeking a one-year deal. Over the weekend it was reported that additional offers came in for Doumit's talents via his agent on Saturday, including one unspecified National League team. Several offers from American League teams are said to be on the table.
Homeopeningseries2011/Ryanandfiance.jpg
As of this weekend, the new Mr. & Mrs. Ryan Doumit
Happy times ahead!
Nov. 11, 2011 -- MLB outlets are reporting that Ryan Doumit has received several offers and is expected to sign with a new team by the end of this month.
Doumit's option was not picked up by the Pittsburgh Pirates, who signed a catcher 6 years older and 100 OPS lower than Doumit to a one-year deal yesterday. The Pirates have until Nov. 23 to offer him arbitration. If he doesn't take it, they get a sandwich draft pick. If Doumit signs with another team before Nov. 23 the Pirates automatically get another draft pick.
n addition to a new team (it is believed Doumit is looking for a one-year deal and his agent said he was open to signing as a catcher, outfielder or designated hitter) Doumit adds another big change to his life this month. Doumit is getting married this weekend!
startofgame.jpg
After more than 11 years with the Pirates, Ryan Doumit is a free agent, moving on.
Moving on
Nov. 7, 2011 -- Ryan Doumit fans, gather up your stuff, we're moving.
(Did you notice the Pittsburgh Pirates part was removed from the top of this page?)
With the Pittsburgh Pirates' formal declaration to decline Ryan Doumit's two-year contract option, Doumit has been declared a free agent -- a type B free agent in Major League Baseball terms.
The Pirates can offer him a contract by Nov. 23, and if he declines that contract by the Dec. 7 deadline under MLB type B rules, they get a sandwich pick in the draft. If they offer him no contract, the Pirates get nothing.
Either way Doumit gets the $500,000 written into the contract for the declined option. He also gets some freedom: to choose from among his suitors, to escape the third-class citizen status treatment from the Pirates, to have an opportunity to be a part of winning baseball.
Doumit was a second round draft pick of the Pirates in 1999. His entire MLB career has been with Pittsburgh.
On Nov. 1 the Pittsburgh's Trib Total Media company had this comment:
"I enjoyed my time in Pittsburgh," Doumit said via text message. "Now it's time to move on."
According to multiple media reports, Doumit's agent, Matt Sosnick, told FoxSports that his client was open to signing as a catcher, outfielder or designated hitter.
For those fans that follow Pittsburgh media closely, opinions of the switch-hitting superhero improve outside the Steel City. Sports writers in Houston and Milwaukee are pitching him to their readership as the answer to a couple of positions and at the plate.
Read up on the free agent market for catchers this year, and you'll see a lot of this:
"Ramon Hernandez might be the headliner of this batch because of his long and successful body of work as a starting catcher in the big leagues, but keep an eye out for Ryan Doumit and Chris Snyder. Both formerly of the Pirates and both of whom were plagued with injuries (Snyder had back surgery, Doumit had ankle problems) in 2011. While both are health risks, they have been productive at and behind the plate when healthy." -- MLB.com.
DoumtQnA1.jpg
Pirates intend to decline Doumit's option
Oct. 21, 2011 -- The Pittsburgh Pirates confirmed today that after the conclusion of the world series they intend to decline Ryan Doumit's two-year option, making him a free agent.
From the official MLB article to the blogs, the announcement was described as "no surprise."
The link to the MLB article is below.
This begins what for fans could be a drawn out process through the winter, waiting to see who lands Superman.
Doumit had send during the final series in Milwaukee that after the season he would talk with his agent and fiancee and decide "what's best for us."
The free agent catcher market is considered by baseball enthusiasts to be slim this year. Doumit is the youngest of the top 10 FA catching prospects coming off a .303 season. The link to that analysis is also below.
MLB article on Pirates' intent to decline
Top 10 free agent primer - catchers
rd2.jpg
Twins 2012
Visit Doumit's player page
Click below to go to Ryan Doumit's player page as maintained by Major League Baseball. The page gives you current stats, averages and information on the player, including links to Doumit's top plays video archive and past articles.
Doumit's player page
This is a fansite. That means it's privately run and not endorsed by Ryan Doumit or the Pittsburgh Pirates. All articles are attributed or written by the site owner. Articles and photos are welcome for submission and will be considered by the site administrator. Inquire by contacting Andrea at administrator@ryandoumit.com
Contact the site administrator
04/01/2012 03:22AM
Ryan Doumit
Ryan Doumit
Ryan Doumit
Ryan Doumit
Ryan Doumit
Ryan Doumit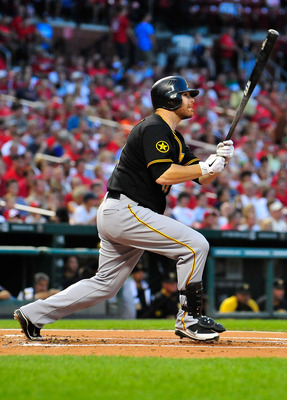 Ryan Doumit
Ryan Doumit
Ryan Doumit
Ryan Doumit Pirates Highlights