Tatiana Golovin Biography
Tatiana Golovin (born January 25, 1988) is a French professional tennis player. Her nickname on tour is Tati. She is best known for winning the 2004 Roland Garros mixed doubles event with countryman Richard Gasquet and reaching the singles quarterfinal at the 2006 US Open, losing to eventual champion Maria Sharapova.
She was born in Moscow, but moved to Paris with her parents and obtained French citizenship. She has two sisters, Olga and Oxana. She also spent six years at Nick Bollettieri's tennis camp in Bradenton, Florida and speaks fluent English as a result. She is currently coached by Dean Goldfine, former coach of Todd Martin and Andy Roddick.
Name
As a female her surname in Russian would normally be "Golovina," but as a French citizen she legally has the same surname as her father (of French descent). Russian sources are divided on whether to spell her name in Russian as "Golovin," (Головин) or "Golovina" (Головина) but "Golovin" seems to prevail. She writes her name as "Golovin" although the traditional French transliteration would be "Golovine." In French, the pronunciations of these two spellings differ.
Tour Debut (2002-2003)
Golovin made her ITF Circuit debut at Cagnes-Sur-Mer (France) in 2002. She played in three more ITF events (including one semifinal) later that year, but she failed to qualify for Roland Garros.
In 2003, Golovin won her first WTA Tour main draw match at Indian Wells against No.146 Gisela Dulko (losing in the second round to Italian Francesca Schiavone). Golovin lost in the first round at Miami, Strasbourg and Roland Garros. She also played in four ITF Circuit events.
2004
2004 was considered as Golovin's breakthrough season, highlighted by finishing runner-up at Birmingham and reaching the fourth round at the Australian Open and Wimbledon. At the Australian Open, Golovin (as No.354, with wild card) upset No.14 seed Anna Smashnova in the second round and No.23 seed Lina Krasnoroutskaya in the third round (on her 16th birthday), before falling to No.25 seed Lisa Raymond in the fourth round. It was just her second Grand Slam tournament and fifth Tour event she entered, and afterwards, on February 2, she rose to No.136 in the WTA ranking.
At Roland Garros, Golovin won the mixed doubles trophy with Richard Gasquet, as a Wild Card team, defeating Cara Black/Wayne Black. They became the youngest champions in 23 years (16 for Golovin, 17 for Gasquet).
At Wimbledon, she reached the fourth round, with wins over Alina Jidkova, Francesca Schiavone, and Emmanuelle Gagliardi, before falling to World No. 10 Serena Williams.
Golovin reached the semifinal at Paris Indoors, losing to Mary Pierce, where she defeated world No.10 Elena Dementieva in the quarters for her first Top 10 win.
In her first Tour grass court main draw at Birmingham, Golovin reached her first Tour singles final, which she lost to Maria Sharapova in 3 sets. The match-up was the third youngest final in Open Era, with a combined age of 33 years and 7 months.
Golovin reached her first Tier I quarterfinal in Montréal at the Canadian Women's Open, losing to Vera Zvonareva. Afterwards, she also reached the quarterfinal in Luxembourg, losing to eventual champion Alicia Molik.
Golovin was a member of the French Fed Cup Team, that defeated Italy in the quarterfinal and Spain in the semifinal, before falling to Russia in the final, in which she defeated No.5 Svetlana Kuznetsova.
She debuted in the Top 100 on February 16 (at No.91), and in the Top 50 on June 14 (at No.50).
2005
2005 saw Golovin's second consecutive Top 30 finish. Golovin's season was highlighted by her second career Tour singles runner-up finish. Aged 17 years and eight months, Golovin reached the final in Tokyo at the Japan Open as No. 3 seed, losing to No. 2 seed Nicole Vaidisova, aged 16 years and five months. Golovin retired with a left achilles tendonitis, trailing 7-6(4) 3-2. This was the eighth-youngest Tour singles final in Open Era, based on the combined age of 34 years and two months.
Golovin was also five-time semifinalist on four different surfaces: on hardcourt at Gold Coast, losing to Schnyder in 3 sets and later that year again on hardcourt at Seoul, losing to Jelena Jankovic in 3 sets (which was her only semi-final loss of the year to a non-eventual champion); on carpet at Paris Indoors, which was her second straight SF there, losing the third set tie-break against Dinara Safina; clay at Charleston, where she notched her third career Top 10 victory versus No. 8 Venus Williams en route to her first Tier I semifinal, before falling to Justine Henin-Hardenne in 3 sets; and grass at Birmingham, losing to Maria Sharapova.
Golovin also reached the quarterfinal at Linz losing to Ana Ivanovic. She reached a career-best performance at Roland Garros, reaching the third round as No.17 seed, before falling to No.12 seed Elena Bovina, and reaching an equal-best performance at the US Open, losing as No.23 seed in the third round to No.15 seed Nathalie Dechy in three sets. Golovin also made back-to-back fourth round appearances at Tier I hardcourt events in Indian Wells and Miami, losing to No.5 Elena Dementieva in three sets at both events.
She made her Top 20 debut (at No.18) after her semi-final appearance at Charleston.
2006
At her first tournament of the year in Gold Coast, Golovin reached the quarterfinal, losing to finalist Flavia Pennetta in three sets. She then lost in the first round of the Australian Open to Italian Mara Santangelo.
Golovin reached her third consecutive Paris Indoors semifinal, defeating Nadia Petrova 3-6, 7-6(7), 6-3 in the quarterfinal, saving match point down 7-6 in tie-break. The victory over world No. 7 Petrova was the fourth top 10 win of her career. She then lost to top seed and eventual champion Amélie Mauresmo 7-6(5) 5-7 2-6 in the semi's, having held 4-2 second-set lead and a match point while serving for the match at 5-4.
Golovin reached her second career Tier I semifinal at Miami, where she defeated world No.8 Elena Dementieva in the fourth round for the fifth career top 10 victory and 100th career singles match win. In the semifinal, Golovin overcame a 5-1 deficit and four match points while down 5-3 in second set versus Maria Sharapova, pushing the match to a third set before she sprained her left ankle and retired at 3-6 7-6(5) 3-4.
She made her return to the WTA Tour at Roland Garros, falling in the first round to Jie Zheng. Golovin went 2-1 in France's 3-2 Fed Cup World Group I Play-off victory over Czech Republic.
Golovin's third semifinal of the season was at Stanford, where she (unseeded) upset Ai Sugiyama and Anna-Lena Groenefeld on the way, losing to No. 2 seed Patty Schnyder.
Golovin then reached the quarterfinal of the US Open (best grand slam performance), defeating Nadia Petrova for the second time in 2006 in the third round and Anna Chakvetadze in the fourth. She then lost to No. 3 seed and eventual champion Maria Sharapova 6-7, 6-7 in over two hours.
After a first round exit in Luxembourg following the US Open, Golovin reached her first final since the Tokyo Open in 2005 at the Porsche Tennis Grande Prix in Stuttgart by defeating Elena Likhovtseva in the first round, Iveta Benesova in the second, Michaella Krajicek in the quarterfinal, and 5th seed Patty Schnyder in the semifinal. Golovin then lost to Nadia Petrova 3-6 6-7 in the final.
At the Zürich Open, Golovin reached the second round, defeating Nicole Vaidisova (6-2, 6-0) in the first, before retiring with a foot injury against Maria Kirilenko while leading 4-2 in the fist set.
2007
Tatiana started off 2007 at the Hopman Cup in Perth, Australia. She won her first singles match, defeating American Ashley Harkleroad 6-3 4-6 6-2. She pulled out of the mixed doubles match with partner Jerome Haehnel, citing an ankle injury. She then defeated Australian Alicia Molik, but then lost to Russian Nadia Petrova 7-6 6-0.
Tatiana Golovin
Tatiana Golovin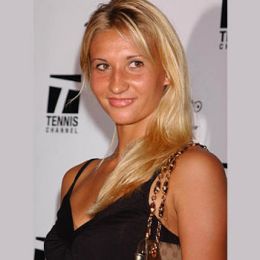 Tatiana Golovin
Tatiana Golovin
Tatiana Golovin
Tatiana Golovin
Tatiana Golovin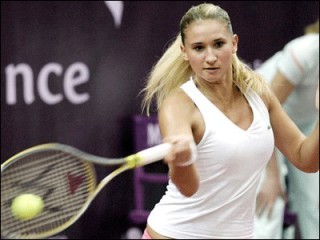 Tatiana Golovin
Samir Nasri et Tatiana Golovin
Paris 2007 QF Justine Henin vs Tatiana Golovin (French)