Shenay Perry Biography
If you are a tennis fanatic like me, no doubt you have heard of two very promising youth tennis players: Shenay Perry and Gael Monfils. These rising stars have shown strong potential in the tennis world, and set a positive example for other youth.
Shenay Perry:
At the age of 24, Shenay Perry has a lot going for her. She has won a total of 175 matches, and her 2008 singles prize money almost equals $5k. Shenay, who started playing tennis at the tender age of 4, was originally coached by her father Ronald. However, Ronald Perry has most recently backed away from his coaching role, and now is more of a father to her.
At the age of 11, Shenay's family moved to Florida to expose her to more training at the Florida tennis academies. The first school Shenay attended was the Rick Macci academy, where she was not totally motivated. However, when she attended the Nick Bollettieri, Shenay's outlook changed. While at Bollettieri, she met coaches and mentors who encouraged her, and helped her realize her potential. (Perry's current coach is Ola Malmqvist.) Subsequently, they influenced Perry's decision to pursue a tennis career.
Previously Shenay had wanted to become a pediatrician, so she gave herself two years to think over her goals. Perry was undecided as to whether she should turn pro or attend college. Because of this indecisiveness, Perry was 14 before she fully committed to a career in tennis, and 16 when she turned pro.
And, what a stellar career it has been for Perry, whose favorite surface is hard court and best weapon is her right-handed, one-handed backhand. Highlights of Shenay's career include: (2000) reached two quarterfinals; (2001) ranked 8-10 on ITF's circuit; (2002) reached three ITF circuit quarterfinals, moved up in rank from 610 to 268; (2003) won first pro titles at ITF in St. Paul, MN and Los Gatos, CA; (2004) moved up to 69 in ranking, defeated Ruano Pasqual, defeated No. 24 seeded Jelena Dokic, defeated No. 20 seeded Zuluaga, and won $50k ITF circuit titles; (2005) reached second and biggest quarterfinals of her career, defeated No. 9 seeded Schruff, and defeated Borwell in Grand Slam tournament in 2nd round; (2006) defeated No. 2 seeded Groenfeld in Memphis, defeated No. 29 seeded Frazier at Indian Wells, and received sixth career ITF title.
The year 2007 was also good for Perry who won nine Davis Cups and three Grand Slams (the Australian Open, 1st round, the French Open, last 32, and Wimbledon, 1st round). In 2008 Perry enjoyed wins over Boserup (6-0, 6-0); Stephenson (6-1, 6-3); Elie (6-2, 6-4); Drake (6-2, 6-1); and Namigata (6-1, 6-4).
Of her playing style Perry says she seeks to imitate Pete Sampras. Critics and fans have come to admire Shenay's great speed on the court. She says 'as long as she has the freedom to move about and is not suffering any injuries, it greatly enhances her game.' Shenay adds she likes to play 'close to the net.'
Needless to say, Shenay is very happy about her decision to turn pro. Perry admires the Williams' sisters (Venus and Serena) for the doors they have opened for all African American tennis players. However, her favorite tennis player is Althea Gibson, who paved the way for female African American tennis players over 50 years ago.
Gael Monfils:
Gael Sebastian Monfils is a 21 year old African American male tennis player born in Paris, France. As of 2008, he is the No. 31 seeded player in the world. Nicknamed Lamonf or Sliderman because of his incredible sliding movements, Gael turned pro in 2004.
His father is a former soccer player, whom Gael once emulated. Ultimately, however, Gael chose tennis over soccer. Lamonf's coaches have included Thierry Champion (2004 and current); Tarik Benhabiles (2006 and 2007); and Pier Gauthier (2005).
Like Perry, Monfils' career has proven to be very rewarding. Lamonf's career highlights include: (2002) defeated Bayer in the German Junior Open, ranked No. 44 junior and represented France in the junior Davis Cup; (2003) played a total of nine Futures events, gained his first ATP title at France Futures in two second rounds, and won the doubles titles at the Victorian Junior Championships; (2004) ranked No. 1 seeded junior in the world (won three of four junior Grand Slams, the Australian Open, the French Open and Wimbledon), and defeated Bogdanovic in Great Britain; (2005) climbed 200 rankings and finished the year as the No. 3 seed, earned his first ATP title, defeated Rochus and Santoro, and earned a career high of $473, 892; (2006) defeated Scott Friedman in a special Las Vegas paddle tennis tournament sponsored by the Tennis Channel, and went on to defeat No. 8 seeded James Blake in the French Open; (2007) defeated Daniel Bracciali in the first round of the Australian Open and Marcus Baghdatis in the second; (2008) became the first Frenchman to reach the semifainals since 2001, defeating Jurgen Melzer, Ivan Ljubicic, and David Ferrer.
Lamonf's best weapon is his right-handed, two-handed backhand. Critics and fans admire Monfils' ability to switch gears from a defensive to an offensive playing style. This strategy frequently works in his favor because it catches his opponents off guard. Monfils' serve which has topped at 190 kmh, closely resembles that of Andy Roddick, however his favorite player is Arthur Ashe. (Ashe also tended to switch gears and take his opponents by surprise). Lamonf does not like long rallies but prefers to defeat his opponents early in the game.
Not only is Monfils admired for his mixed style of play, but also for his courtside antics. A showman at heart, he has been known to do handstands and splits while playing a game. Additionally, he enjoys firing up his spectators by pumping his chest and screaming during matches.
Monfils' dexterity often puts his body under tremendous pressure, causing stress fractures and ankle sprains. These injuries have frequently sidelined him, and cost him several matches, however, he always comes back stronger and better. Of Blake's defeat at the hand of Monfils at the French Open in 2006, Blake stated that Monfils was "the fastest man on the tour". Of Monfils' triumphant win over Baghdatis in Janurary 2007 (7-6, 6-2, 6-0), Monfils stated that "it feels good, very good". "But its still a long tournament."
Shenay Perry
Shenay Perry
Shenay Perry
Shenay Perry
Shenay Perry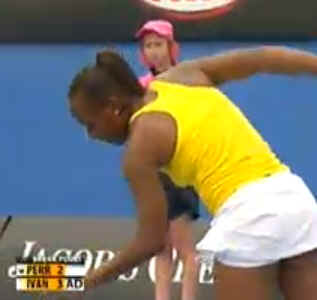 Shenay Perry
Shenay Perry
Shenay Perry
Ana Ivanovic vs Shenay Perry
ITF Nottingham 2009 - Shenay Perry vs Georgie Stoop - part 1