Dan Marino Biography
Dan Marino is considered by most to be the most prolific quarterback in NFL history.
Early Life:
Dan Marino was the oldest child of Daniel and Veronica Marino, and had two younger sisters, Cindi and Debbie. The family lived in the Oakland neighborhood of Pittsburgh where his father supported the family by delivering newspapers for the Pittsburgh Post-Gazette and other odd jobs.
The Pittsburgh Steelers began to emerge as a powerhouse in the NFL during the 1970s, and Dan soon became one of their biggest fans. His love for pick-up football games in the neighborhood, soon grew into a standout career as Quarterback at Pittsburgh's Central Catholic High School. From there he became Quarterback of the Pittsburgh Panthers at the University of Pittsburgh. He won so many awards and set so many records, that the university retired his jersey number in 1982.
Professional Career:
The Miami Dolphins selected Dan Marino as their number one pick (27th overall) in the NFL draft. In his first year with the Dolphins, Dan threw 20 touchdowns, lead the Dolphins to the playoffs, started in the Pro Bowl and won league Rookie of the Year. As the years went by, Dan Marino continued to play well as the Miami Dolphins quarterback, named to the Pro Bowl nine times, becoming the first quarterback to pass for 60,000 career yards, and amassing a record career 420 touchdown passes.
Since retiring from football, Dan Marino has appeared on the covers of Sports Illustrated, Inside Sports and GQ. He and his wife Claire devote a lot of time to their charity, The Dan Marino Foundation, which raises money for children with chronic illnesses and developmental disabilities. They balance all of this work with the joys of raising 6 children - 3 sons and 3 daughters. Beginning in the fall of 2006, Dan Marino will be one of the in-studio hosts of CBS's The NFL Today.
Fun Dan Marino Trivia:
In 1993 Dan played himself in the hit movie, "Ace Ventura: Pet Detective," starring Jim Carrey. In 1997 he became a NASCAR Winston Cup team co-owner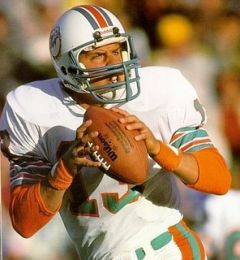 Dan Marino Speaker - Dan Marino Speaking Engagements
Dan Marino Miami Dolphins First Scrimmage at Joe Robbie Stadium