Mike London Biography
In January Mike London returned to the Virginia football program as the defensive coordinator and defensive line coach. He returned to Charlottesville after spending the 2005 season as the defensive line coach with the NFL's Houston Texans. London was a member of head coach Al Groh's original staff at UVa from 2001-04, coaching the defensive line. He was also the program's recruiting coordinator during his final three seasons.
During his first stint at UVa, London coached three linemen picked in the NFL draft--NT Monsanto Pope, DE Chris Canty and NT Andrew Hoffman. In addition, he coached DE Brennan Schmidt for three years. Schmidt, last year's defensive captain, is UVa's record holder with 51 career starts. Both Canty and Schmidt are in the top-five for tackles by a defensive lineman in school history.
As UVa's recruiting coordinator, London helped the Cavaliers land three consecutive nationally ranked recruiting classes.
Prior to his first coaching stint at UVa, London previously served as defensive line coach at Boston College, from 1997-2000, under former UVa assistant coach Tom O'Brien. While there, he helped lead the Eagles to two bowl appearances. Among the players he coached at BC was All-America defensive tackle Chris Hovan, a first-round selection by the Minnesota Vikings in the 2000 NFL draft.
In addition to his coaching duties at Boston College, London served as the pro scout liaison and staff representative for the assistant coaches in the Big East. Since 1997, he has worked at several NFL mini camps and training camps. He worked with current UVa head coach and former NFL coaching veteran Al Groh at the Jets' training camps in 1999 and 2000.
London went to Boston College after serving as the outside linebackers coach and recruiting coordinator at Richmond for three years (1994-96). During that time, he coached All-America linebacker Shawn Barber, a fourth-round draft pick by the Washington Redskins in 1998.
From 1990-93, London was the defensive line coach at William & Mary. While there, he was instrumental in the development of 1993 consensus All-America defensive tackle Craig Staub.
London broke into the coaching ranks as the outside linebackers coach and admissions liaison at Richmond (1988-89). Before going into the coaching profession full-time, he spent several years as a police officer and part-time high school coach.
Growing up in Hampton, Va., London played defensive back at Richmond from 1979-82. He led the Spiders with six interceptions as a senior captain in 1982 and tied the school record with three pickoffs in one game. In addition to earning All-State honors, he was chosen the team's MVP and received the Coaches Award. In 1982, he was selected as the male in-state Athlete of the Year by the Penisula Sports Club.
The 44-year-old London graduated from Richmond in 1983 with a bachelor's degree in sociology. He received a degree in law enforcement from the Richmond Police Academy in 1984. He served as a detective for the street crimes unit from 1985-87.
After college, London signed as a free agent with the NFL Dallas Cowboys in 1983. His younger brother, Paul, was a defensive back at UVa from 1991-1995.
Mike London
Mike London
Mike London
Mike London
Mike London
Mike London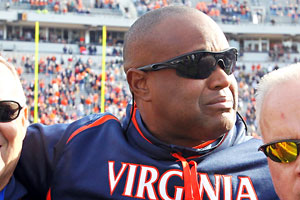 Mike London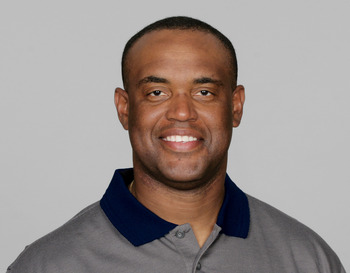 Mike London
Mike London: Game Face(s)